The Classic and
Classic Plus Blazers
Stylish traditional two-button fully lined career apparel blazers, from $79.00 in an extremely wide range of colors.
Features: Lower pockets, Patch and Flap. Brass Buttons on most colors.
Cool and comfortable- Feels more like a personal sportsjacket than a uniform!
Both the classic and classic plus blazers are available in true men's and women's sizes - no more unisex cut.
Available in both normal sizes and Big and Tall sizes

Classic Blazer Jacket Colors:
Navy Blue
Black
Red,
Maroon / Burgundy,
Hunter Green (Dark Green)
Royal Blue,
Kelly Green (Bright Irish Green),
Brown,
Orange,
Camel / Beige
Purple
and Gold

$79.00*
White or Gray $89.00*
Coordinating slacks for Men or Ladies
from from $29.50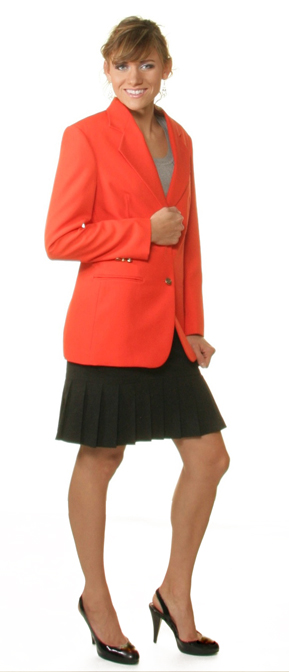 Women's Orange blazers
Men's Navy blazers

Ladies Navy Blazers

Men's Black blazers

Ladies Black Blazers

Men's Gray Blazers

Ladies Gray blazers

Men's Royal blue Blazers

Ladies Royal blue Blazers

Men's Maroon Blazers

Ladies Maroon Blazers

Men's Hunter Green Blazers

Ladies Hunter Green Blazers

Men's Maroon blazers

Ladies Maroon Blazers

Men's Gray Blazers

Ladies Gray blazers

Men's Brown blazers

Ladies Brown Blazers

Men's Red blazers

Ladies Red Blazers

Women's Burgundy blazers

Men's Royal blazers

Ladies Royal blazers

Men's Gold blazers

Ladies Gold blazers

Men's Orange blazers

Ladies Orange Blazers

Men's Navy blue blazers

Ladies Navy blue blazers

Men's Beige Blazers

Ladies Beige Blazers

Men's White blazers

Ladies White blazers

Men's Purple blazers

Ladies Purple blazers

Men's Kelly Green blazers

Ladies Kelly Green blazers