For Men




For Women

Blazers
Tuxedos
Trousers




For Children

Boys' & Girls' Harvard Blazer




For everyone

Reunion Outfits
Academic Regalia
Skimmer Hats
Logos & Emblems
For school uniforms, Blazer Depot carries an extensive line of boy's and girl's school uniform blazers upon which we can (if you like) add your school's logo.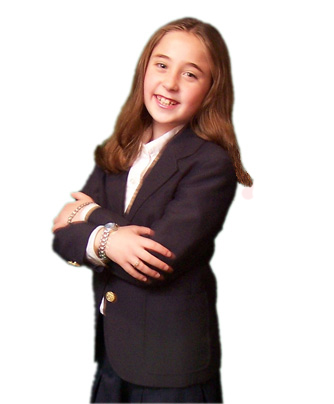 Our school uniform blazers are available in Navy, Burgundy and Forest Green (in - stock colors);

or we can special make them for you in Red, Black or Grey (50 piece minimum on the special make colors.)

SIZE CHART FOR BOY'S AND GIRL'S SCHOOL UNIFORMS BLAZERS

Blazer Sizes for Boys and Girls

| SIZE | | | | | | 14 | 16 | 18 | 20 |
| --- | --- | --- | --- | --- | --- | --- | --- | --- | --- |
| CHEST | | | | | | 33 | 34 1/2 | 36 | 37 1/2 |
| WAIST | | | | | | | 33 1/2 | 35 | 36 1/2 |
In addition to school uniforms and blazers, we also offer a full range of student academic regalia - graduation gowns, caps and tassels.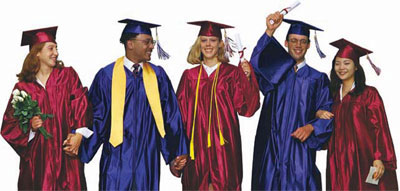 Traditional Graduation Cap and Gowns are available for
High School, Elementary & Middle School.
Our graduation regalia selection includes the cap and gown, tassel, year charm, honor stole, honor chord, key chain tassel, diploma covers; and in the case of preschool cap and gowns, even the diplomas.
Each cap and gown set comes individually wrapped with a cap, gown, tassel, and year date on the tassel.
Color choices for caps and gowns include white, gold, royal blue, light blue, gray, purple, black, navy and maroon/burgundy.
Tassels are available either solid, or two-tone, such as royal & white mix; with or without year date charms.
High School gowns and caps shown with royal / white mix tassel; gold honor chord and white custom stoles.
Harvard Blazer for boys or girls:

Boys/Girls Sizes: 4-20

In Stock Colors: Navy, Red, Burgundy
Black, Hunter Green $79.00

Special Make Colors (minimum 50 pieces):

Gold, Light Blue, Pink, Grey $79.00
We also offer schools and bands the oportunity to purchase formal wear for their chorus, choirs, or orchastras at wholesale prices.
Formalwear items include the tuxedo shirt, tuxedo pant, bow tie and cummerbund.
We sell both tuxedo pants and khaki pants.
We even offer cummerbunds and bow ties in children's sizes smaller than adult cummerbunds, so they fit better!
We work with companies, organizations and schools; churches, country clubs, choruses and bands; airlines, hotels and cruise ships; fraternal organizations and teams looking for quality formal wear, career apparel, uniforms, caps and gowns, and blazer programs at wholesale prices.
Our costume department is fully equiped to help with your plays and production costumes such as boater jackets and vests and hats.
In addition to school uniforms, blazers for boys and girls, and academic regalia - caps and gowns, Blazer Depot also has a very extensive selection of blazers and sportcoats for men and women.
The Blazer Depot's academic regalia - cap and gown department also supplies superior quality faculty regalia such as doctoral gowns, graduation hoods and velvet tams.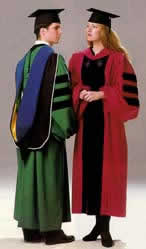 For more information, visit the links above or on the navigation bar on the left
or contact our Blazer - Uniform - Costume - Formal wear department
at 412-273-3444
or our Cap and Gown - Academic Regalia department
at 412-422-GOWN (4696) .
You may also e-mail us at sales@blazerdepot.com
Or you may fax us at one of the fax numbers located on our order form.